Lady Clay Shooters Board Members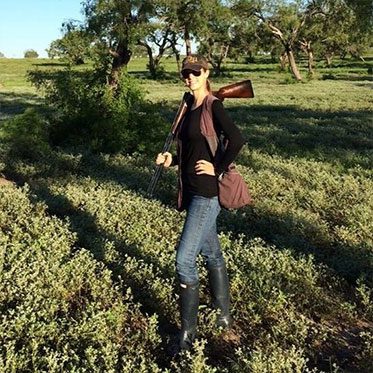 Jessica Forsdick, President
Houston, TX
I graduated from Texas Tech University and now work in Real Estate and Risk Management in Houston, TX. I am a member of Alpha Phi and have previously been on the board for Houston Panhellenic. I not only enjoy smashing clays and bird hunting but enjoy spending time with friends, family, and my rescue pup, Sherman, the blind Shih-Tzu. I am an avid collector of art and absolutely love to travel on road trips or far-off international destinations, but I am just as happy on a patio with a glass of wine, a cheese plate, and a good book.
I have been a member of the Lady Clay Shooters for several years now. I first discovered the group when deciding to take up sporting clays because it "looked like fun." That decision started a Google search and discovery of the group called the Lady Clay Shooters, Inc. After joining the summer league and LCS-sponsored clinics, I was completely hooked! I volunteered for the board and have loved getting to know all the women in the group, both on and off the clay course.
Barbara Garney
Cypress, TX
Founder of Lady Clay Shooters,
Inc. Immediate Past President
Shotguns have been a part of my outdoor life since the early 90s.
I attended a women's workshop weekend sponsored by Texas Parks and Wildlife in 1994. I took part in the Shotgun 101 class. The weekend was fantastic, and I learned so much.
One of my instructors, who eventually became a very dear friend, encouraged me to attend the Ladies Charity Classic the next weekend at American Shooting Centers. Well, I went, broke 8 out of 50 targets, and thought I set the world on fire!!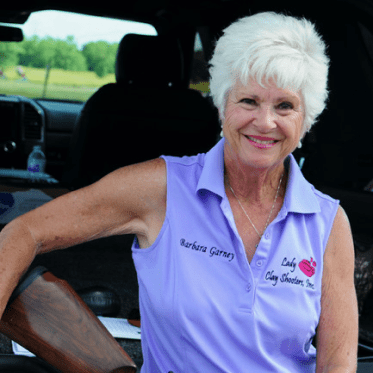 Over the past 30 years, there has been organized women's shot gunning events in the Houston area. In 2004, I was asked to take the chair of the local ladies group. We immediately began to reach out to women of all age groups, professions, ethnicity, and skill levels. We began to grow our membership base without any difficulty.
In 2012 we officially became Lady Clay Shooters, Inc., a 501(c)(3) tax-exempt organization. Our mission is to support women in shooting sports, firearm safety, equipment care and maintenance, and low-cost instruction. Our main event each year benefits a local children's charity.
I am so proud of our organization, what we accomplish each year, the number of ladies we bring into our sport, AND the fact that husbands enjoy their wives joining them on the shotgun course.
Our goal is to give ladies the opportunity to see just how much fun shotguns really are!!
Nancy Reese, Secretary
Houston, TX
SHOOTING – it all started when I sat down one day and made a list of all the things I needed to do. This was a fun list that took me on private airplanes, Broadway shows, swinging a golf club, rowing a canoe, dancing, hot air balloons, rain forests, and shooting guns. On my first trip to the shooting range with a borrowed shotgun, my first three skeet targets shattered, and I was hooked.
With this newfound hobby, my friend Vicki and I began our search for more girls who enjoyed breaking clay targets. That was more than 10 years ago, and from the very beginning, we jumped in to help and participate in the yearly shooting event that raised money for the Be An Angel charity.
My career choices had me in accounting, teaching in public schools, business education, and working in the world of insurance and criminal justice. Always active, I also sit on the board of more than one charity and work with other nonprofit groups that keep me in the outdoors, involved in education, meeting elected officials, and working with others on public policy issues.
With these career paths and activities, my list of friends continues to grow.
Kim Hegwood
Houston, TX
I am a proud board member for Lady Clay Shooters. I have three beautiful children, and I am a proud "G-Momma."
I have been a practicing Texas attorney for over 20 years, and I specialize in the areas of estate planning, probate, asset protection, special needs, guardianship, and elder law. In my spare time, I enjoy clay sport shooting, traveling, and spending time with my grandbabies.
Cathy Spangler, Treasurer
Houston, TX
Insurance is a way of life for me. I have been in the field for 40+ years, and I am currently a vice president and unit leader of a privately held insurance broker, Lockton. Our team specializes in commercial insurance for Multi-National Marine and Energy Accounts.
Houston has been our home for 36 years, and my husband and I are both native Texans, having grown up in San Antonio. We have two grown girls who we are both very proud of. We have been grandparents of a beautiful granddaughter for nine years, and her mother just recently gave birth to twins, so we are now the proud grandparents of three. Our youngest daughter spent five years serving our Great Country in the Navy. We are a very close-knit family and enjoy spending vacation time together every year.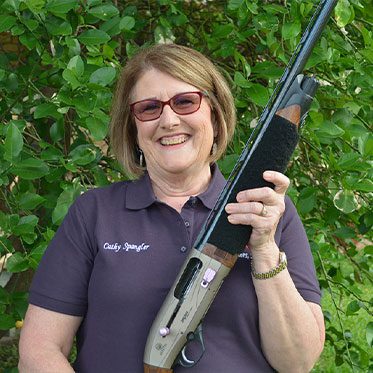 About five years ago, a dear friend, Jay Warren, convinced me to shoot in the charity event for "Be An Angel." Knowing that I like to shoot but not having much of an opportunity to do so, he introduced me to Barbara that year, and the rest is history. Even though I am still very much an amateur at shooting, I have made friends with a great group of ladies and shoot as often as I can.
Cindy Gise
Cypress, TX
I am a true Texan! Born and raised in Dallas, I love all things Texan. I broadened my horizons by attending and graduating from Stephen F. Austin State University, obtaining a BBA in Marketing.
Currently serving as the Accounting Administrator for an international commercial real estate firm, my work experience has spanned many fields – oil and gas (surface transportation and marketing), property management computer software, property management, commercial construction, commercial development, commercial brokerage activities, payroll, HR services, and winemaking.
My husband, Dan, and I have been married for over 40 years and are the proud parents of two children and prouder grandparents of four! My outside interests are as diverse as my work experience – needlecrafts, quilting, cooking, reading, hunting and shooting sports, service through my church, and military support organizations.
After my youngest child left for college, I began searching for a joint hobby with my husband. He took me to shoot skeet, and the rest is history. Shooting skeet awoke a love for shooting that led me to Lady Clay Shooters.
Alicia Thomas
Houston, TX
I work in Human Resources in the construction/transportation industry. I've been in HR for 15+ years. I enjoy meeting new people and talking about their skills and background while determining if they are compatible with the position I am recruiting for.
I have been married for 15 years and have three fur babies (two dogs and a cat). I am originally from Louisiana, but after living in Houston for 16 years, I am beginning to feel like a native. I started shooting shotguns a few years ago when my husband introduced me to skeet. I saw a flyer for the Ladies Shoot and signed up for the email distribution list. When summer arrived, I joined and have been hooked ever since. It has been a wonderful experience learning to shoot and meeting wonderful friends. We often get together to shoot in various charity shoots and registered shoots because we truly enjoy spending time together doing what we love.